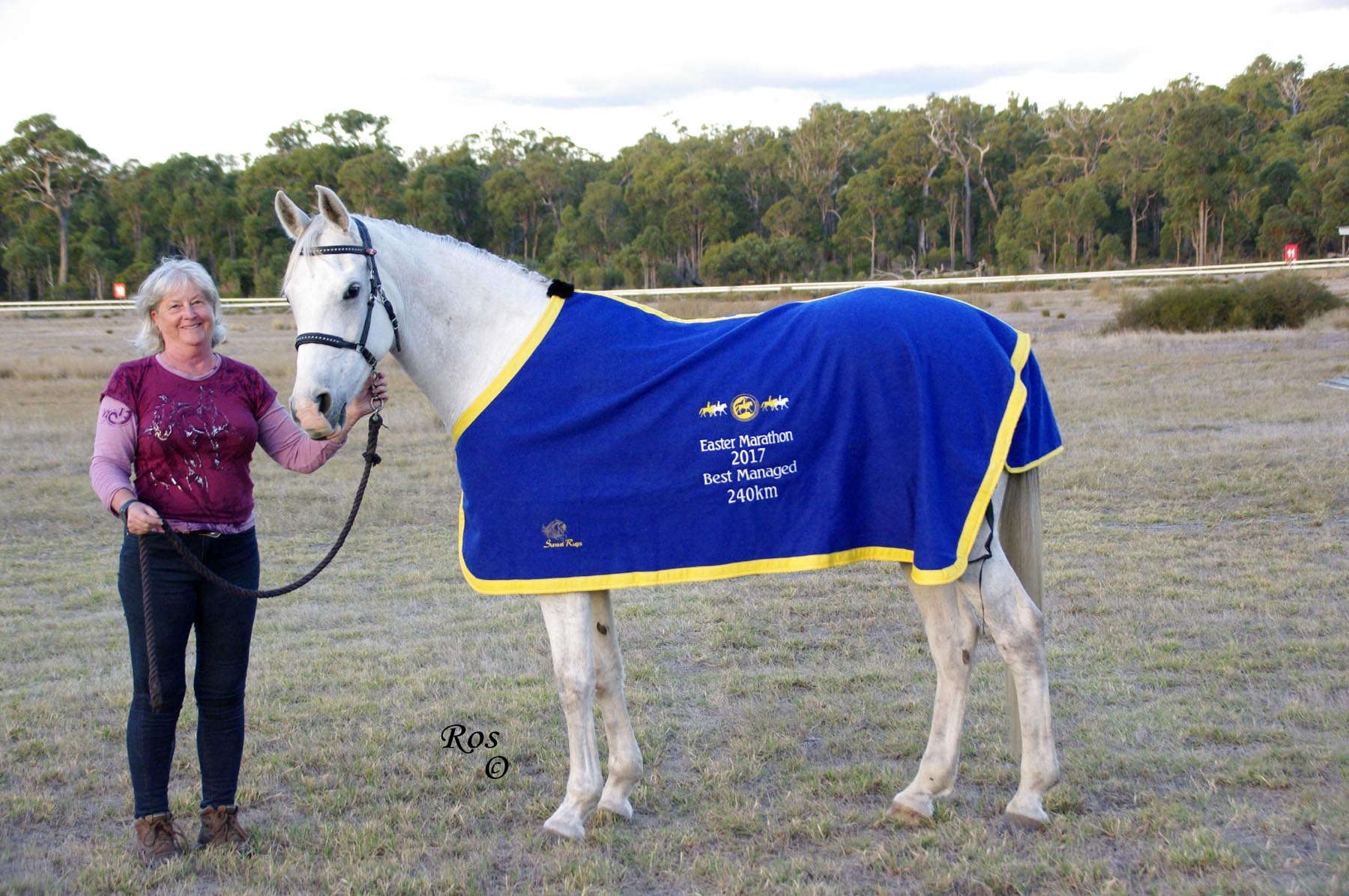 Marbling N'Elle (AU) F28581
Gender: Female
DOB: 14 August 2006
Grey (Born Chestnut)
Owner: Mattilda Arabians
Breeder: Mrs Nola Cameron
Marbling N'Elle (AU) F28581
Early in 2021, Karen Karlovsky and Bernard Morris contacted us and asked if we would be interested in having Marbling N'Elle home to join our brood mare herd.
To say we are thrilled to have N'Elle home is an understatement, she settled in extremely well and quickly established herself as second lead mare, only giving way to her mother Marbling Naacilla.
We asked Karen if she could put pen to paper and tell us their story.
Marbling N'Elle was gifted to Bernie and Myself from Harry O"Brien, (Arabika Arabians) in 2012. She was six years old when we got her and was very green. She did her first eighty kilometers at Katanning 2013, was 4th Heavyweight and was awarded Best Managed from the Veterinary Awards. Her second eighty was at Muresk College ride a fortnight later. Hackamore broke at the start; she took off up the hill (that went for about 1km) chasing the leaders. Luckily, she stopped at the top of the hill as she could not see the leaders, yellow safety tape across her chest and front feet on the first rail line of a cattle grid!! Bernie finished the first forty and we decided to withdraw on course and come home. So very lucky that day. A lot of people remember that ride and have their own story of N"Elle going passed them with Bernie trying to slow her down.
Her third eighty was First Heavyweight and Best Conditioned at Bridgetown, one of our favorite rides. Bernie continued to campaign N'Elle through 2014 (no Wagin Quilty as she was still not up to the distance), 2015 riding both N'Elle and Maralinga Elusive Bey alternately, 2016 6 x 80kms 5 x Best Conditioned, State Champ 160kms Best Conditioned all Heavyweight.
Bernie then very graciously handed N'Elle's reins to me.
She did the two-day 160km ride at Ravensthorpe 2016 (Mt Short, Long Ride), 2nd Middleweight and Best Conditioned. To finish the year, she was 1st Middleweight at Margaret River. An amazing year for our girl.
2017 we did the Easter Marathon 240kms and were awarded Best Managed, followed by Collie Diggers 160kms =1st, Collie Classic 90kms and Best Conditioned.
Then our world of endurance came crashing down. Marbling N'Elle was lame at the end of the next ride, off hind medial branch suspensory ligament, we did all the treatment available and N'Elle eventually came back sound. She was then shown in hand and a few quiet rides at local horse events. Arabian State Champion Endurance Horse 2018 and a few others. She did not like it much, much happier on a loose rein and trotting on.
I then had a total knee replacement that took a long time to recover, started Marbling N'Elle back on track 2021. Sadly, this was not to be, even though she is 'sound' the off hind did not hold the strength to do endurance.
The decision to retire her completely from all competition was not an easy one but she is a running horse and twenty metre circles are not her favourite thing.
We made the decision to ask Lynne Bunce (Mattilda Arabians) if she would like to have her as a brood mare, she is only 14 years old, as we do not have the years in us to breed her.
So, our beautiful silver girl now runs in a huge paddock with other silver horses, and fingers crossed this year will be in foal to Marbling Lutana.
Marbling N'Elle is gifted back to Lynne Bunce, we wish her all the very best, she loves all her horses, they are a sight to see.
We are looking forward to the day we see our special girls foals out on track.
Karen Karlovsky and Bernie Morris
We are pleased to announce Marbling N'Elle is in foal to Marbling Lutana Marbling Nafara x Marbling Priscilla) and id due this spring. This little one will be an endurance riders dream horse!
Mustafa (DE)

Hadban Enzahi (EG)

Masarrah (DE)

Naadirah (GB)

Aswan (EG)

Napraslina (RU)

Shermoon

Silver Moonlight (EXP US) (GB)

Sherees

Regale

Fabulous

Renita

Mustafa (DE)

Hadban Enzahi (EG)

Masarrah (DE)

Naadirah (GB)

Aswan (EG)

Napraslina (RU)

Shermoon

Kassida