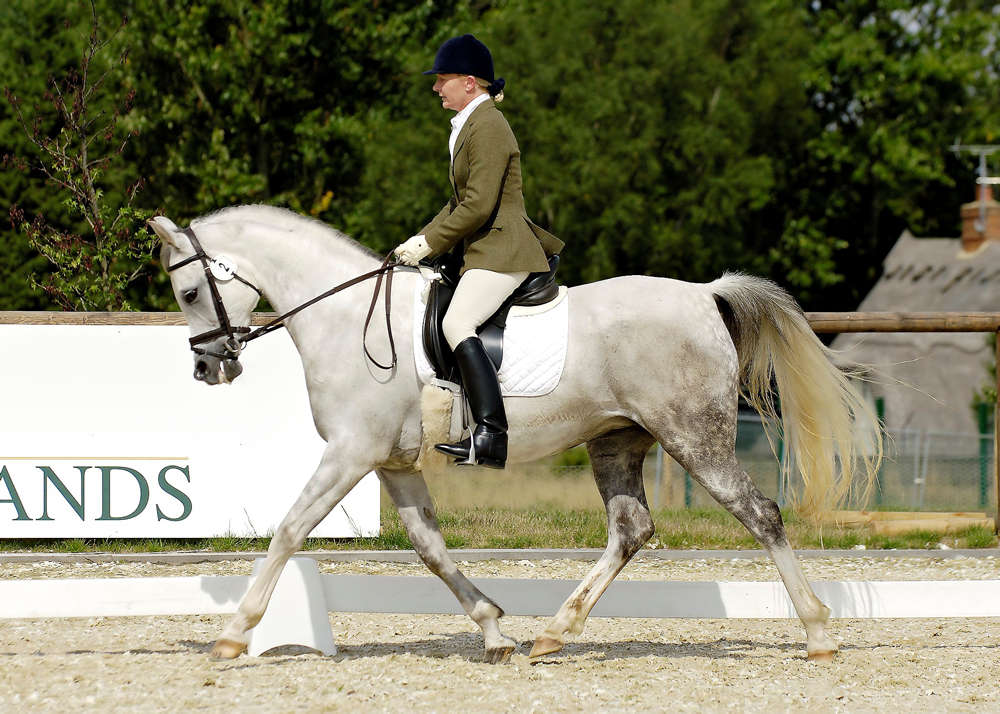 Sunne in Silver (GB)
Sunne in Silver has achieved AHS Premium mare Status through her successes under saddle in dressage and ridden events.
This very typey dapple grey mare dramatically produced an exquisite filly, to the multi- Champion Rusleem, in the middle of the Equine Artists Weekend at Gadebrook Stud in May 2004.
Her filly Rusleema has the looks, confidence and action to follow her sire into the show-ring and beyond - in fact she was sold to a breeder in Australia in 2007.
Sunne in Silver combines the best of Crabbet bloodlines - producing a good strong body and limbs - with the delicacy of the Esta Espashan influence, giving her a very pretty head and light movement. And she proved a wonderful brood mare on her first attempt.
Sunne in Silver is trained and ridden by Kit Rolfe who achieved great things in 2006 winning a Novice Ridden Championship and reserve overall ridden championship of the show, and in 2007 winning in Affiliated British Dressage against all-comers. Her excellent dressage scores and wins have earned Sunne the coveted AHS Premium Mare status, one of very few mares to have achieved this accolade. Sunne in Silver is 77.28% Crabbet Arabian.
To achieve 4th place in the Pure Arabian Performance Awards at her first attempt proves the ability and versatility of this lovely mare under saddle.
Article and Photos Courtesy of
Anne Brown
Gladbrook Arabian Stud, United Kindom.
Jah Sahel (GB)

Esta-Espashan (DE)

Ibn Estasha (DE)

Sadika (DE)

Crystal Dove (GB)

Golden Silver (GB)

Silver Blue (GB)

Goldern Ludo (GB)

Crystal White-Gold (GB)

Diamond Wings (GB)

Golden Silver (GB)

Silver Blue (GB)

Goldern Ludo (GB)

Sun Diamond (GB)

Golden Silver (GB)

Silver Blue (GB)

Goldern Ludo (GB)

Twinkling Diamond (GB)