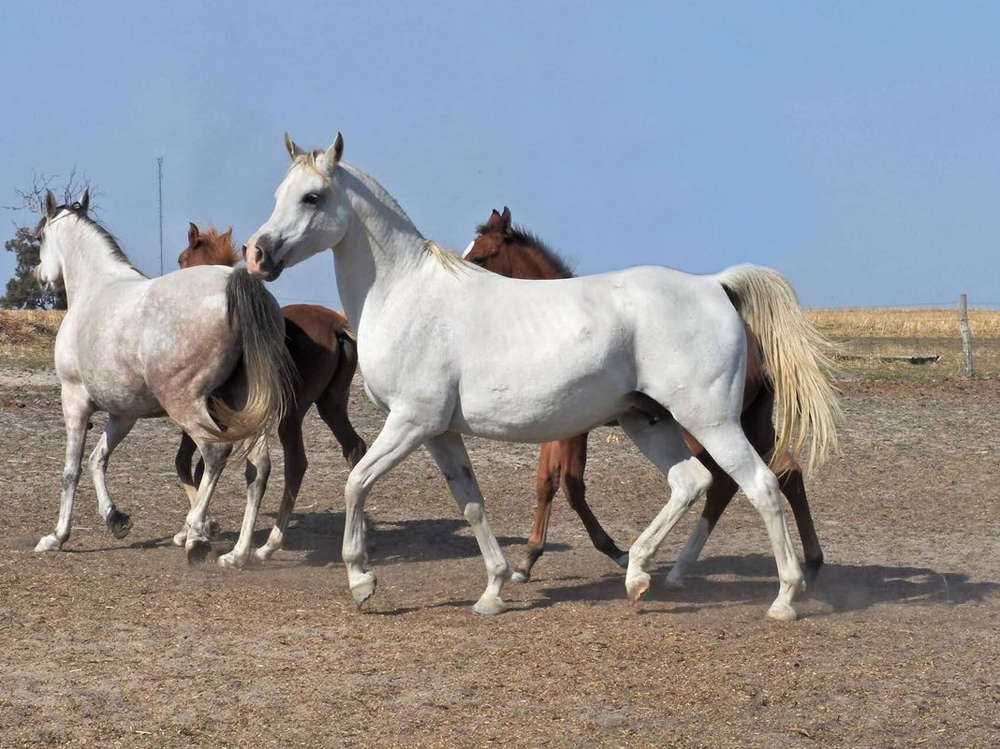 Gender: Female
DOB: 9 May 2004
Grey
Owner: Attilio & Doreen Panizza
Breeder: Ann Brown
RUSLEEMA (GB) F28800
Rusleema imp is on lease to Mattilda Arabians, providing a wonderful outcross opportunity for us.
Daughter of Sunne in Silver (GB) a AHS Premium Mare, (Read more on Sunne in Silvers page).
Rusleema's sire Rusleem (GB), was an astonishing achiever, 1- Junior UK International Champion, 2 - Senior UK International Champion, 3 -UK International Ridden Champion, 4 - Champion at HOYS, 5 - The only horse to have achieved the 'Triple Crown', 6 - Successful at endurance too!!!
7- ASH Premier Stallion. (Read more on Rusleem's page)
When we first met Rusleema's owners they commented their greatest dream was for Rusleema imp to create her own Australian dynasty. She is well on her way with her first foal completing the 100-mile Tom Quilty endurance ride. Her son Ruseeba by Marbling Nemo is already an A class show champion and two daughters Rachael and Rochelle by Marbling Nur although still young, are of the highest quality.
SCID - Non-carrier, clear by testing, LFS - Non-carrier, clear by testing, CA - Non-carrier, clear by testing
El Saleem (GB)

Maleik El Kheil (GB)

EL Shaklan (DE)

Muneera (GB)

Crysilla (GB)

EL Shaklan (DE)

Crystal Clear (GB)

Rullante (GB)

Roxan (GB)

Count Roland (GB)

Bint Roxana (GB)

Russallka (GB)

Gold Rex (GB)

Roshnara (GB)

Jah Sahel (GB)

Esta-Espashan (DE)

Ibn Estasha (DE)

Sadika (DE)

Crystal Dove (GB)

Golden Silver (GB)

Crystal White-Gold (GB)

Diamond Wings (GB)

Golden Silver (GB)

Silver Blue (GB)

Goldern Ludo (GB)

Sun Diamond (GB)

Golden Silver (GB)

Twinkling Diamond (GB)