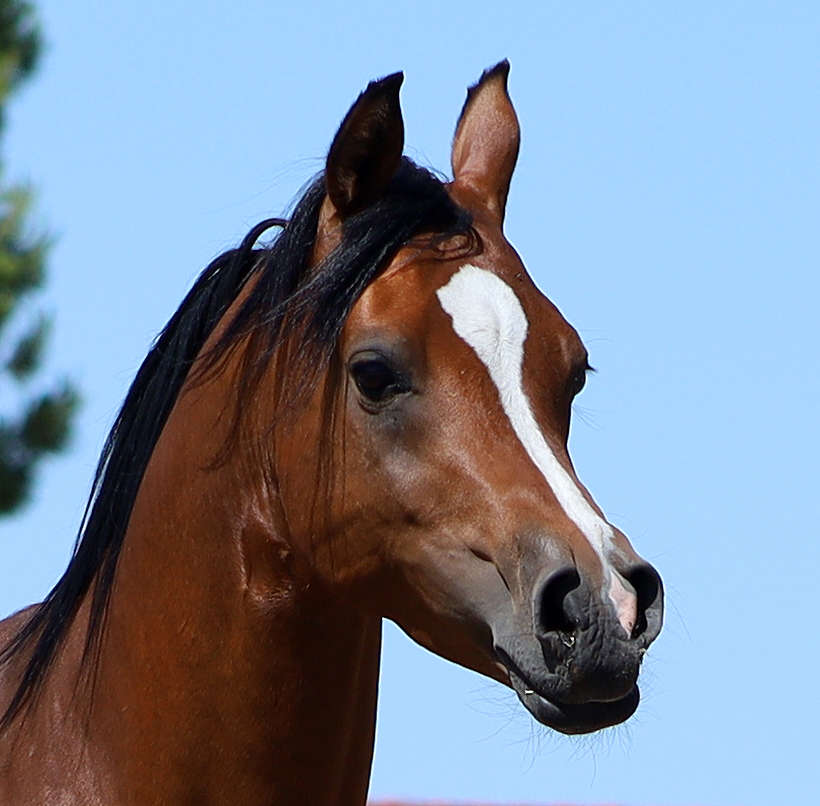 Gender: Male
DOB: 15 December 2016
Bay
Owner: Mattilda Arabians
Breeder: Mattilda Arabians
RUSEEBA (AU) S28582 - Available for purchase.
RUSEEBA is a six-year-old Stallion by Marbling Nemo (Naasser x Marbling Nicole) out of Rusleema (imp GB) (Rusleem x Sunne in Silver) Russeba is an A class show halter champion at his one and only outing.
He is an extremely elegant and athletic ridden Stallion ready to start a competitive ridden career.
Ruseeba has the physical and mental refinement of an Elite Arabian.
SCID - Non-carrier, clear by parentage, LFS - Non-carrier, clear by parentage, CA - Non-carrier, clear by parentage.
RUSEEBA'S SIRE:
MARBLING NEMO (AU) S19241 Dec. Sire - Naasser by Mustafa imp DE, both horses were outstanding athletes and sires, dam - Naadirah imp GB By Aswan (EG) out of Napraslina (RU). Naadirah is the "Australian Darling" of the Arabian world enticing generations of young people to the Arabian horse through written books, halter and performance triumphs and producing a family of offspring for all breeders to access and empower their programs.
Marbling Nemo's Dam - Marbling Nicole by Naasser out of Naisha a granddaughter of Shermoon by Silver Moonlight. Marbling Nicole was an A class Halter Champion. The joining with her sire Naasser produced a group of choice Stallions that wouldn't be seen in to many studs worldwide, all sons were Champions, including an Australian Top 10 award, the last son, Marbling Nur is still with us and breeding beautifully.
Marbling Nemo himself an A class Halter Stallion, an extremely successful sire and a superb riding Stallion whose wonderful temperament allowed him to start his saddle training at 10 years of age and go on to compete successfully under saddle.
RUSEEBA'S DAM:
RUSLEEMA (imp GB) (Rusleem x Sunne in Silver) warrants all the accolades of the five-star brood mare she is, producing to date 4 world class progeny for Mattilda Arabians. Broken to saddle in her younger days Rusleema was a successful riding horse.
Rusleema's extraordinary European parentage and the fact she is the only daughter of Rusleem and Sunne in Silver in Australia places her and her progeny in high respect.
READ ON with reference to Rusleem GB and Sunne in Silver GB.
RUSEEBA'S GRANDSIRE:
RUSLEEM (GB) - (Elsaleem / Rullante) A 1989 chestnut stallion who is still admired and excites Arabian enthusiasts throughout the world.
Rusleem's achievements briefly.
Junior international champion, United Kingdom International Arabian Horse Show
Senior international champion, United Kingdom International Arabian Horse Show
Ridden champion, United Kingdom International Arabian Horse Show
British national champion.
Champion Ridden Arabian of the year.
Premier Stallion.
Sire of British National Champions.
Successful stock in all spheres.
The only one to have gained the 'Triple Crown'.
Successful at endurance too!!!
RUSEEBA'S GRANDDAM:
Written by and courtesy of, Anne Brown - Gladbrook Arabian Stud, United Kingdom.
SUNNE IN SILVER has achieved AHS Premium mare Status through her successes under saddle in dressage and ridden events.
This very typey dapple grey mare dramatically produced an exquisite filly, to the multi- Champion Rusleem, in the middle of the Equine Artists Weekend at Gadebrook Stud in May 2004.
Her filly Rusleema has the looks, confidence and action to follow her sire into the show-ring and beyond - in fact she was sold to a breeder in Australia in 2007.
Sunne in Silver combines the best of Crabbet bloodlines - producing a good strong body and limbs - with the delicacy of the Esta Espashan influence, giving her a very pretty head and light movement. And she proved a wonderful brood mare on her first attempt.
Sunne in Silver is trained and ridden by Kit Rolfe who achieved great things in 2006 winning a Novice Ridden Championship and reserve overall ridden championship of the show, and in 2007 winning in Affiliated British Dressage against all-comers. Her excellent dressage scores and wins have earned Sunne the coveted AHS Premium Mare status, one of very few mares to have achieved this accolade. Sunne in Silver is 77.28% Crabbet Arabian.
To achieve 4th place in the Pure Arabian Performance Awards at her first attempt proves the ability and versatility of this lovely mare under saddle.
Extensive Photos and Information regarding RUSSEBA and his heritage visit https://www.mattildaarabian.com
Related articles
Mustafa (DE)

Hadban Enzahi (EG)

Masarrah (DE)

Naadirah (GB)

Aswan (EG)

Napraslina (RU)

Mustafa (DE)

Naadirah (GB)

El Saleem (GB)

Maleik El Kheil (GB)

Crysilla (GB)

Rullante (GB)

Roxan (GB)

Russallka (GB)

Jah Sahel (GB)

Esta-Espashan (DE)

Crystal Dove (GB)

Diamond Wings (GB)

Golden Silver (GB)

Sun Diamond (GB)